Water Damage Restoration Company Youngsville NC, Water Damage Repair & Cleanup
Youngsville's Number One Choice in Water Damage Restoration and Repair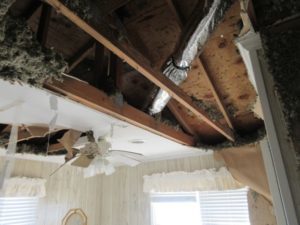 Big Blue Restoration is a water damage restoration company that provides water mitigation services for both residential and large loss commercial property owners in Youngsville and the Research Triangle area. If you have been the victim of property damage and need quick emergency water removal and water damage repair, phone the experts at Big Blue Restoration to have the task done correctly and executed quickly! Our goal is to make the process as easy as we can, so you can get your life back to normal.
Our friendly staff are prepared to take your call and will answer any questions you might have regarding the water removal service. We deliver consistent interaction so you understand what's going on with the job at each step of the way and are never uncertain of what we're doing.
We also work directly with your insurance company, to take the strain off of you if possible. We can then help you process your claim with your insurer to get started as soon as possible on the recovery.
24/7 Water Restoration & Water Removal Service
We're prepared to take your call day or night, 24/7, for a Youngsville water damage emergency. When there's water in your office or home, and your washing machine is dripping, you cannot afford to wait long for assistance to arrive. We have emergency water restoration vehicles prepared with the gear required to take out the water, completely dry out all places, and also have your home back to pre loss condition fast!
Big Blue Restoration of Research Triangle area is devoted to our clients and also to supplying the very best in customer service, with constant communication throughout the whole water restoration process as well as dealing with issues or concerns the minute they come up. We're an IICRC Certified business and our courteous and friendly service specialists are fully qualified to deal with your water damage Youngsville NC incident from start to finish.
Fixing Youngsville Flood Damage in Any Situation
No matter the reason you need water mitigation services for your property, whether it be from broken pipe, leaky pipe, or frozen pipe water damage, sink overflow, toilet overflow, refrigerator, washing machine, water heater, or dishwasher overflow, bathtub overflow, air conditioner leaks, basement water damage, or sewage damage, hardwood floors water damage, sump pump or storm damage, our home water damage restoration specialists work with a high level of attention to detail on every single large-loss commercial property restoration, water extraction, sewage cleanup and sewage removal job and won't rest until the damage is repaired and your life returned to its normal routine.
We know the importance of proper water damage cleanup and emergency water removal services and making sure that ALL of the damage is restored and repaired as if the disaster never happened. If you have an emergency water leak and need a water damage restoration company near you then give Big Blue Restoration a call at 919-323-3600.
Industrial Grade Equipment & Water Damage Services
Big Blue Restoration will completely dry out all the water with our industrial grade tools, and also locating and detecting any fluid which is hidden from plain sight. We have vehicles ready which are built with all of the needed gear (cleaning products, blowers, dehumidifiers, or air movers) to extract the water, dry it out completely, and get your business or home to its original condition.
Upon arrival, we are going to perform a quick assessment of the scenario, and will then use our water damage services the moment an action plan is decided. With cutting edge restoration products, our licensed water damage technicians handle with the water cleanup and removal, and dry out all affected areas, contents, and buildings. If removed quickly enough, it's possible for us to save furniture, carpets, documents, and valuables–we do everything we can to save your precious valuables.
IICRC Trained and Certified in Flood Cleanup
Being an IICRC certified firm means that all of our staff and service technicians have been trained and strictly adhere to the guidelines and protocols set out by state, federal and IICRC regulations. We have made sure that we're ready for any flood cleanup situation that comes our way by having the correct and up-to-date equipment and training required to do a complete and thorough job. Our investment into the training and certification of our staff means that you can rest easy knowing your job will be handled completely and properly from beginning to end.
---
Sewage Damage Cleanup & Removal Throughout Youngsville
Big Blue Restoration's team of sewage removal experts in Youngsville NC have many years of experience resolving various sewage backup cleanup and repair problems. Our overall goal is to cleanup your sewage damage, thus minimizing the associated health risks. There is no job too dirty or too big for the professionals at Big Blue Restoration.
Only trained professionals with the right equipment should handle any amounts of sewage backup cleanup. Our certified sewage backup cleanup & removal specialists are trained to hygienically clean, disinfect, and sanitize your property. Coming in contact with fecal materials or raw sewage can cause considerable disease, not to mention destroy valuables and cause extensive damage to your property.
Thank You for Choosing Big Blue as Your Water Damage Company
We are a Youngsville water damage restoration company that provides water damage repairs for residential and commercial property restoration. If you have any sort of water or flood damage in your home or business and need immediate water cleanup, give Big Blue Restoration a call today.
We service Youngsville NC and following zip codes: 27596.
Call us 24/7 for Water Damage Restoration